dogdaysunrise
HCA - Gitarren
Zuletzt hier

26.02.11
Mitglied seit

21.09.03
Beiträge

2.804
Kekse

1.285
Ort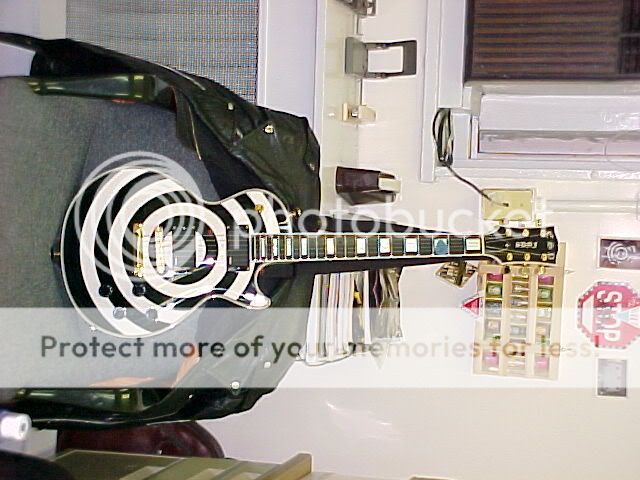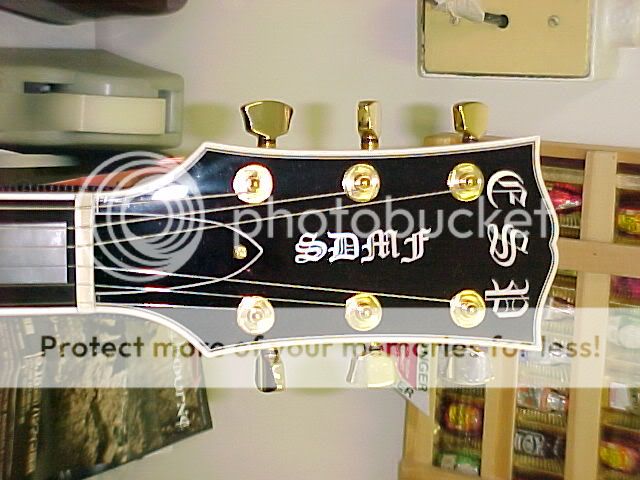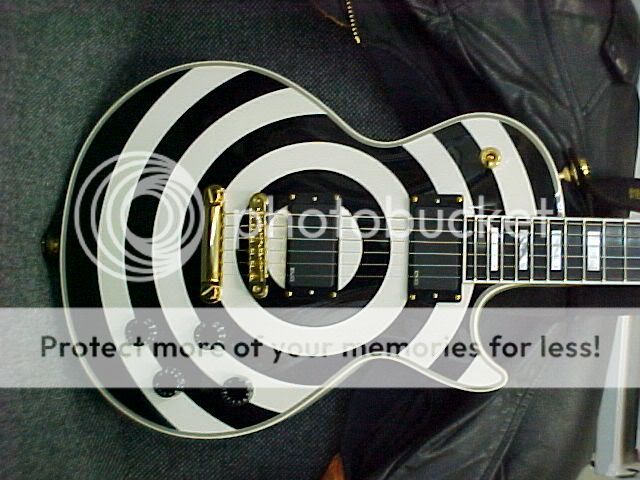 Und die Geschichte die dahinter steckt:
I decided to go ahead an get a Bullseye, and started asking around about the prices. I'm hearing about $4,000-$5,000. Remember, I'm in Japan!
I think that you can get them for about $3,500 here now. Because it was so much, I knew I had to go with my regualr guitar shop.
He lets me pay stuff out. It would take me a LONG time to pay it off, but the shop was willing to order me one. I also thought about trying to order one off the net, like Musician's Friend or some other site.

Well, I started to really think about how much money this was going to be, and that I would even be able to SEE the guitar in person until I had already paid for it. So I decided to order it through my guitar shop, even though it would cost more. Well, then I thought it would be pretty fucked up to have him order it, them possibly cancel. I was really worried about the frets. I have an 81 Les Paul Custom that had frets that were SHORT. I hated it, and eventually had it refretted. I didn't want to get a brand new guitar refretted. So I started to think about having ESP make me one. I love ESPs and have a few and knew they would do a good job. I really like Les Pauls, I just don't like small/short frets. So I went out and got as many pics/specs of the Bullseye I could find and put it all together.

When I'd heard the RUMOR that a Zakk Wylde Bullseye would be made, I imagined that the headstock would say either "BLS," "SDMF," or have the Skull logo. When it came out, I was a little disappointed. Well, if I was going to have a Bullseye custom made, I might as well get "SDMF" put on the headstock! It is inlayed and that jacked the price up quite a bit. I also like locking tuners, so I had Spertzels ordered with it.
So it SHOULD be the same as the Gibson Bullseyes except for the Headstock inlay, no maple top, and the locking tuners. The maple top would have added $1,000. ESP said they only had AAAA grade flamed maple, and that's why it was so much. Well, fuck paying for a killer flame top if I'm going have them paint a bullseye over it! Ha! Oh, it also came with an ESP flight case. Really nice. So that's about it for a while.

Then, last year when Black Label came over, I took it to the Club Quattro show in Tokyo! After the show I waited outside with a freind. He brought his Epi Bullseye with him, too. Nick, Craig, and Mike came out and were signing autographs. So My friend and I rushed over to Nick. I'd asked him if he would autograph it when them came, and he said okay. He actually remembered seeing the pics of my guitar, and remembered who I was. I thought that was totally cool! So he autographed it, but told us that they were already late for something, so Zakk wouldn't be able to stop. That was a bummer. Nick told us that if we brought the gutiars the next day (we had tickets for both nights! Ha!) he would be sure we could get Zakk to autograph the guitars, and even hang out. Well, Zakk came out and everybody rushed to talk/meet him. We held our guitars up. HA! Zakk saw them and came over to investigate! We had to wait in line, a few people rushed ahead of us when he came around the door. I was just trying to protect my guitar!
So Zakk is signing autographs and taking pics, but he keeps looking at my guitar out of the corner of his eye. It was pretty funny! Anyway, we finally get back to the front, and he checks them out. He said mine is lighter than his Bullseyes, but it was very nice. He really like the "SDMF" inlay. Then he autographed it! Man, I was pretty much in shock. Ha! Then he checked out my friend's Epi and autographed it. He told us that Epiphone was doing a great job on the Epis, and that he was proud of them. He said he would NEVER put his name on a piece of shit guitar. Zakk and Nick were VERY cool and down to earth. I really wish I could have got Craig and Mike to autograph it too, but they were already in the van by the time we got back through the crowd. It didn't see right to walk up the van. Anyway, I waited about 20 minutes for the autographs to dry before I would put it back in the bag. I didn't want them to smear.

Ha! Well, a few days later I took it back to my guitar shop. He sent it back to ESP for me to get it clearcoated to protect the autographs. I love the guitar and didn't want to quit playing it, but also didn't want the autographs rubbing off. It was pretty damn expensive, but it was worth it to me. I dtill don't have any digital pics of the autographs, but I'm thinking about getting a camera this summer. If I get one, I'll be sure to get some pics up. Anyway, that's the story of my ESP Custom Bullseye! Oh, it was about $4,000, and took 9 DAMN MONTHS to make!